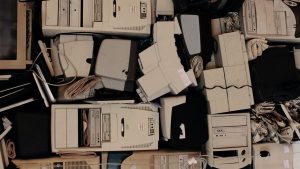 Most people today have at least one computer at home. And you probably don't think twice about disposing of your old computer when you get a new one. But what you may not realize is that simply throwing away your old computer can put your personal information at risk!
That's why using a computer shredding service is essential when you're ready to get rid of your old computer. A computer shredding service will ensure that your personal information is destroyed and that your old computer is recycled properly.
Sometimes the process can feel daunting, especially if there are concerns about convenience and data security. If this feels relatable, don't worry! You're in the right place. Read on for three quick questions you can ask before choosing a computer recycling service:
Do You Offer Pick-Up And Delivery?
If you choose a computer shredding service that offers pick-up and delivery, you won't have to worry about transporting your old computer to the shredding facility. This can be a convenient option if you don't have a way to transport the computer yourself or want to avoid taking the time to do it.
On the other hand, if you choose a computer shredding service that doesn't offer pick-up and delivery, you'll need to transport the computer to the shredding facility. This option might be better for you if you want to save money on the computer shredding service. Either way, choose a reputable computer shredding service to ensure your data is properly destroyed.
Can You Provide Me With A Quote?
When choosing a computer shredding service, get a quote. Explain your project in detail so the company can give you an accurate estimate. They will need to know how many computers you need to shred, what type of computer(s) they are, and whether you need them to remove data from the hard drive! This will help you compare prices and services to find the best deal.
What Are Your Recycling Practices?
Most people don't realize that throwing away their old computers is extremely harmful to the environment. Those plastic and metal components can take centuries to decompose; in the meantime, they'll release toxins into the ground and water.
Additionally, there's always the chance that someone will go through your trash and salvage your old computer for its valuable parts. This means that your data could end up in the wrong hands.
Shredding your old computer with a professional computer recycling company ensures that all of its parts are properly recycled and that your data is destroyed beyond recovery. This is the best way to protect the environment and your personal information.
Get Your Computer Recycled Today!
When it comes time to dispose of an old computer, don't take any chances – use a secure shredding service. Not only will this ensure that your personal information is destroyed, but it will also help you recycle your old computer in a safe and environmentally friendly way.
Assured Document Destruction is proud to offer the best residential and commercial computer shredding services in Las Vegas. We have a secure facility, state-of-the-art equipment, and a team of experts dedicated to ensuring your personal information's safety and security. Contact us today to securely recycle your computer!