One Time Shredding Service, Scheduled Shredding Services and Hard Drive Shredding
* Required Field
We never sell or share your information.
Protecting Your Information
Assured Document Destruction specializes in secure shredding services. Whether it's on an on-going, regular basis for your office or a one-time bulk clean-out of storage documents. All materials are shred at your location into small particles by one of our on-site security specialists and then returned to our secure facility. All shredded paper is then baled and sent to be recycled into low grade paper products such as paper towels, tissue, and napkins.
Protecting Your Reputation
Assured Document Destruction offers scheduled shredding services in Las Vegas for those who need to shred on a regular basis. We will work with you to establish a schedule that meets your needs and budget. Our security containers are placed at your location, and our professionals will pick up your documents on the days you specify and destroy them in our state-of-the-art facility. This service is ideal for businesses that generate a large amount of paper waste on a regular basis.
Assured Document Destruction has specialized expertise in hard drive destruction, computer disposal and electronic media destruction. We are certified for on-site mobile shredding of hard drives. During shredding, all electronic media and hard-drives are rendered legally indecipherable. The physical destruction ensures that the confidential information cannot be accessed again.
"They went out of their way when I had some technical difficulties...The gentleman whom came to shred the documents was professional and patient as I was not completely ready for him."
"They have always treated us with exceptional service and guarantee that our storage and retrieval needs are met without hesitation."
"...I've been thoroughly impressed with their pricing and service...Assured Document Destruction makes the entire process simple. Thanks!"
"...completely professional and accommodating to all our needs beginning with the initial onsite interview and culminating with efficiently scheduling multiple pickups."
"On top of being amazing Assured Document Destruction is dependable and most important priced just right...You can tell they care about their customers."
"We have been happy with the level of service we have received since making the switch. Orders are picked up and delivered without any problems and are always on time."
Shredding Services in Las Vegas
The Most Secure Shredding Services Available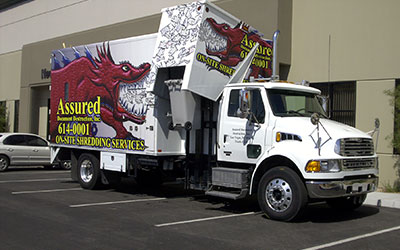 All documents are cross-cut shred on-site by our specially built, hands free material feeding, high speed mobile shredding units. We do not unnecessarily handle or view your individual documents.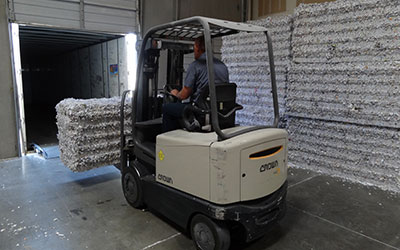 All the paper we shred is recycled, together with our clients we save over 100,000 trees a year. That's over 500 tons of paper each month. All of the shredded baled paper is sent directly to a papermill where it is pulped and turned into tissue products.
Assured Document Destruction is the trusted company for all residential shredding needs in Las Vegas, providing reliable and secure services with a team of experienced professionals who offer convenient pick-up and drop-off options.
Partnering with Our Customers
The reCAPTCHA verification period has expired. Please reload the page.