* Required Field
We never sell or share your information.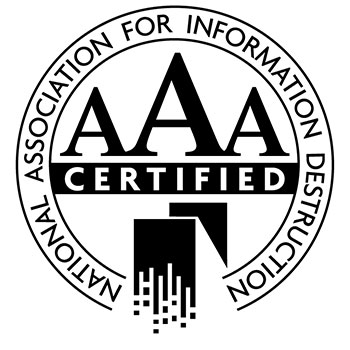 On-Site Document Shredding Services
If you live in Las Vegas, NV, Assured Document Destruction offers an on-site shredding service that can be used to safely and securely destroy your confidential documents. This service is ideal for businesses and individuals who want to ensure that their private information is properly disposed of.
Assured Document Destruction provides the highest quality on-site shredding services in Las Vegas. We are proud to offer our clients a convenient, safe, and secure way to destroy their confidential documents. Our state-of-the-art equipment ensures that your documents will be thoroughly shredded, and our experienced staff is always available to answer any questions you may have.
Secure On-Site Shredding in Las Vegas, NV
Secure on-site shredding is the process of having a mobile shredding truck come to your location and destroy your documents on site. This is the most secure way to ensure that your documents are destroyed because you can witness the entire process from start to finish. A mobile shredding truck can destroy thousands of pounds of paper in just a few hours, so you won't have to worry about storing your documents for a long time.
On-site shredding is also more environmentally friendly than off-site shredding. When documents are shredded on-site, the paper is recycled immediately and turned into new products. This helps to reduce the amount of waste that goes into landfills.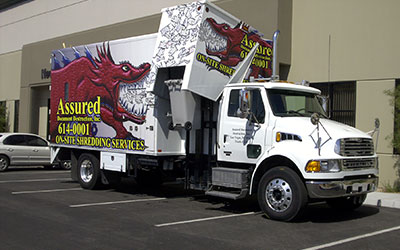 How Does On-Site Shredding Work?
At Assured Document Destruction Las Vegas, we understand that you may have sensitive documents that need to be destroyed in a safe and secure manner. That's why we offer our secure on-site shredding service. On-site document shredding is a process in which documents are shredded at your location, rather than being transported to an off-site facility. This type of shredding is ideal for businesses or organizations that generate large quantities of sensitive documents on a regular basis. Here are the four steps involved in on-site document shredding:
Step 1: Collection
The first step in on-site document shredding is collection. Your documents will be collected from your office or facility by a team of trained professionals. The documents will then be securely transported to the shredding truck.
Step 2: Shredding
Once the documents have been collected, they will be fed into the industrial-strength shredder on the truck. The shredder will reduce your documents to tiny pieces that can never be put back together.
Step 3: Recycling
After the documents have been shredded, they will be recycled. The recycled paper can then be used to make new products, such as cardboard boxes or newspapers.
Step 4: Certification
The final step in the on-site document shredding process is certification. You will be provided with a certificate of destruction that proves your documents have been properly shredded. This certificate can be used for your records or to provide peace of mind to your customers or clients.
Why Choose Assured Document Destruction For On-Site Shredding in Las Vegas?
No Banker Box? No Problem!
Partnering with Our Customers
Complete Document Management
Assured Document Destruction specializes in secure shredding services. Whether it's on an on-going, regular basis for your office or a one-time…
Assured Document Destruction specializes in Secure PC / IT Asset Recycling. What makes us different is we have a secure information management view and not a recycling mentality.
Assured Document Management is the most secure, most economical record storage solution and has the highest quality service of all Document Storage Companies. Highly trained professionals can purge, pack, and index your documents…
The reCAPTCHA verification period has expired. Please reload the page.