* Required Field
We never sell or share your information.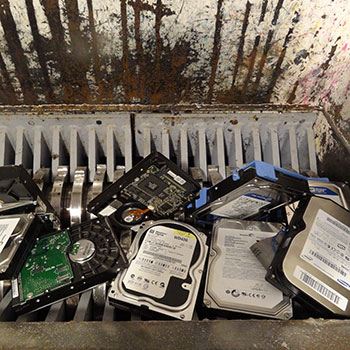 Electronic Media Destruction
Assured Document Destruction has specialized expertise in hard drive destruction, computer disposal and electronic media destruction. We are certified for on-site mobile shredding of hard drives. During shredding, all electronic media and hard-drives are rendered legally indecipherable. The physical destruction ensures that the confidential information cannot be accessed again. Having drives, back-up tapes, floppies, optical disks and any electronic storage media shred can become part of your overall destruction program, either by regular scheduled service or one-time projects is easy as 1,2,3.
Hard Drive Destruction for Las Vegas Businesses
Do you want to improve your Las Vegas company's information security while being compliant?
Assured Document Destruction Las Vegas will physically destroy your old, faulty, or obsolete computer hard drives on-site, under the supervision of your chosen staff. After your hard drives have been destroyed, we will supply you with complete destruction records as well as a certificate of destruction.
The Las Vegas hard drive destruction process is completed by transporting the shredded pieces for proper disposal and recycling.
In contrast to the prior practice of transporting hard drives to offsite locations for destruction, on-site hard drive destruction is a cutting-edge and unique option. All of the packaging, shipping, trucking, offsite receiving, and remote handling were redundant, non-value-added process steps that raised the likelihood of data loss and corruption.

We employ specialized equipment to execute physical hard drive shredding annihilation; the procedure is exact, rapid, and secure. It is far safer and more efficient than having your personnel drill many holes in large numbers of hard drives. In addition, you will receive our independent destruction audit reports.
If you desire it, we will inventory your company's hard drive serial numbers and/or model numbers prior to the shredding procedure.
In addition, we're also able to quickly destroy data center hard drives.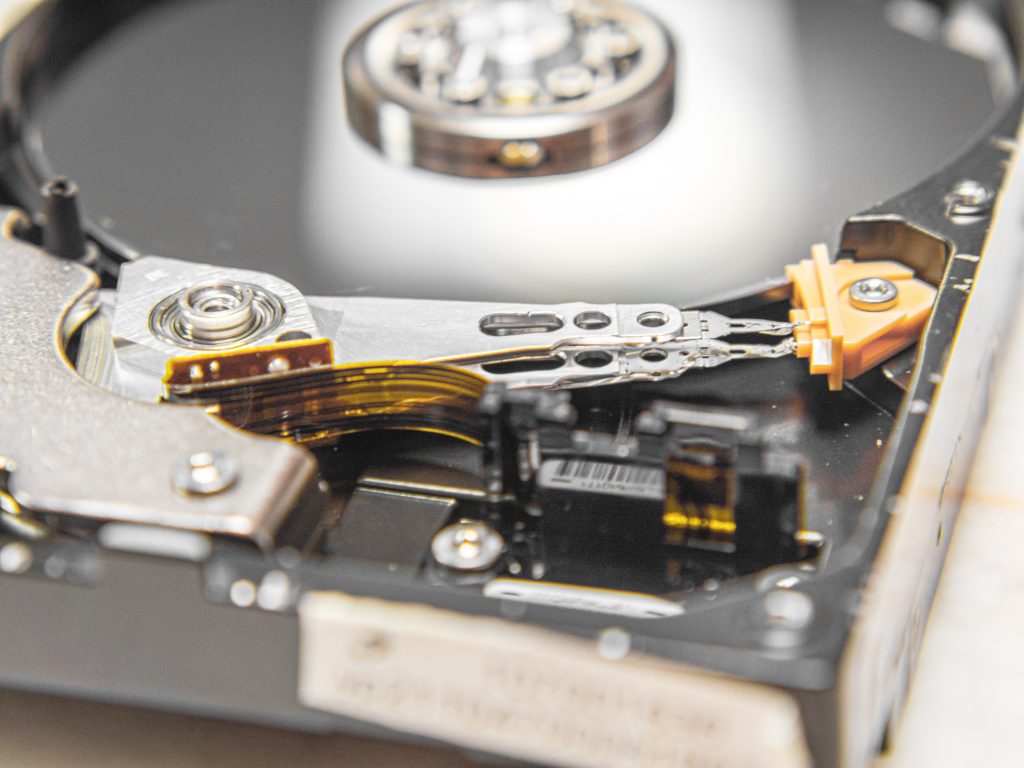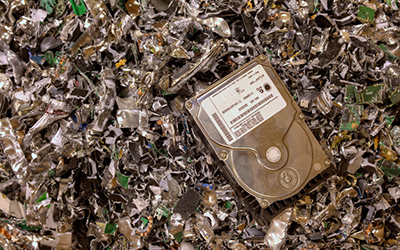 A single hard drive can contain a warehouse full of confidential information. When these drives reach the end of their lifecycle it is important to make sure that the confidential information on the drives is protected. Formatting/degaussing hard drives, tapes, and other magnetic media is not enough. This is practiced by most companies before they are ready to dispose of electronic media. This practice is not secure as it is prone to human/software error and anyone with basic computer skills can recover deleted data. Any information left on a hard drive could be catastrophic for your company. That small piece of information could be a password or a customer's social security number.
We accept hard drives at our office for drop off destruction. Drives will be bar code scanned, rendered unusable by crushing, then placed in a secure locked container until they are shred. The shredded material will then be sent for scrap metal recycling.
Meets all required Regulatory Compliance.
What We Can Destroy for You
We provide confirmed destruction of all forms of secret and proprietary materials in addition to removing paper records. We can destroy CDs, software, video cassettes, items, and even uniforms safely and swiftly. Please find the list below:
Once your materials have been totally destroyed, we will provide you with a Certificate of Destruction. This verifies that your things were destroyed securely and validates your compliance with applicable regulations. For your record keeping and security, a full audit trail containing information such as the weight and/or kind of materials, date, and so on is supplied.
Complete Document Management
Assured Document Destruction specializes in secure shredding services. Whether it's on an on-going, regular basis for your office or a one-time…
Assured Document Destruction specializes in Secure PC / IT Asset Recycling. What makes us different is we have a secure information management view and not a recycling mentality.
Assured Document Management is the most secure, most economical record storage solution and has the highest quality service of all Document Storage Companies. Highly trained professionals can purge, pack, and index your documents…
Partnering with Our Customers
The reCAPTCHA verification period has expired. Please reload the page.