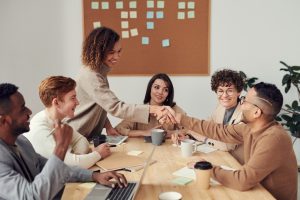 If you're running a small business in Las Vegas, it's important to be aware of the importance of proper document disposal. Professional shredding services are essential to any efficient and successful business strategy, as they can help with organization, compliance, streamlining operations, and protecting your business from data breaches. Whether you need to dispose of old employee records or financial documents, having reliable, professional shredding services in place can make all the difference to your organization. In this article, we'll look at four key reasons you should consider investing in a reputable shredding company for your small business.
1. Being Organized –
First and foremost, the most important reason for investing in a professional shredding service is to help keep your business well organized. Professional document destruction can make storing your data safely and securely easier, helping you avoid unnecessary clutter that could get in the way of more important tasks. Not only will this save you time when searching for specific documents, but it also ensures that sensitive paperwork is disposed of properly – reducing the risk of exposure or identity theft.
2. Compliance with Laws and Regulations –
Another key benefit of using professional shredding services is that they ensure compliance with all applicable laws and regulations regarding document disposal. You may have strict standards to adhere to when disposing of confidential information such as customer records or financial statements, so having reliable experts who know customer privacy legislation is essential. Not only will this help to keep your business compliant, but it also brings peace of mind that you are taking all necessary steps to protect confidential information.
3. Streamlining operations –
Professional shredding services can also help streamline your everyday business operations by eliminating the need for manual document destruction or storage processes. By having reliable experts on hand who can provide secure and efficient disposal solutions, you'll be able to free up valuable time that would have otherwise been spent dealing with paperwork – allowing you more time to focus on other areas of your business.
4. Protecting Your Business –
Finally, professional shredding services offer an extra layer of protection for your small business from data breaches or identity theft incidents. By having reliable experts on hand who can provide secure and efficient disposal solutions, you can be sure that no confidential information is left exposed or vulnerable to potential breaches – reducing the risk of reputational damage and costly lawsuits.
Conclusion –
For any Las Vegas business owner, it's essential to have reliable document destruction services in place. Professional shredding not only helps with organization and compliance but also streamlines operations and protects your small business from data breaches or identity theft incidents. Investing in a reputable shredding company is an important part of any successful business strategy – so make sure you consider the benefits and find the right solution for your needs today.
Customized Shredding Solutions: Assured Document Destruction Las Vegas
If you're looking for a reliable shredding solution in Las Vegas, look no further than Assured Document Destruction. Our team of experienced professionals provides high-quality services that are tailored to meet the needs of your business. Whether you need regular document destruction services or one-time purges, we have the experience and expertise to ensure that all confidential documents are disposed of safely and securely. Reach out to us to learn more about how our secure shredding solutions can help keep your business safe and compliant!